Start of the 51st Edition of the Tampere Theatre Festival
5.8.2019
The Main Programme of Tampere Theatre Festival takes a powerful start with the sold-out Hair performances. If you do not have a ticket for Hair this is a good day to plan ahead the programme for the Festival week.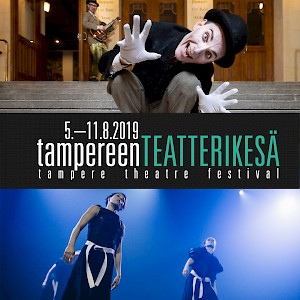 Tips for Tuesday
On Tuesday, the Main Programme offers powerful dance piece I'm Liquid which mixes the movement material of the choreography in an enchanting manner with martial arts. Choreographer Jarkko Mandelin and his group is known for their come-die originality and adventurous performances testing the boundaries of human movement.
Stage: Hällä
Tue, 6 Aug 18:30
Wed, 7 Aug 16:00

The internationally acknowledged contemporary Finnish circus group Circo Aereo brings on the stage master mime Marc Gassot with Lion – The Weird and Magical Abracadabra Circus Show. This tribute to circus is spiced with brilliant sprinkles of pantomime and shades of splatter movies. It is a wonderfully deranged concoction of tongue-in-cheek comedy, animal taming, magic and clownery.
Stage: TTT Eino Salmelainen
Tue, 6 Aug 18:30
Wed, 7 Aug 14:00
 
OFF Tampere presents special guests from Georgia 

OFF Tampere is getting very special guests from Georgia as Petros Adamian Tbilisi State Armenian Drama Theatre is coming to Tampere to participate in the fringe programme OFF Tampere. A Rainy Day is a strong performance about alcohol abuse and addiction. The performance is strongly based on physical theatre, so it is suitable for all audiences although it is performed in Armenian. The audience will also get brief synopses in English and Finnish.
Stage: Teatteri Telakka
Tue, 6 Aug 20:00

More tips for the international audiences for the festival week can be found here.