Mid-festival update – suggestions for the days ahead!
8.8.2019
Start of the week has been full of wonderful performances, and there are still more to come!
For English speaking and international audiences the Main Programme offers quite a few interesting things during the next few days!
Keisha Thompson (UK): MAN ON THE MOON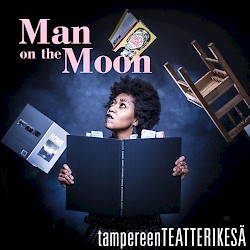 Eloquently combining storytelling with poetry, Keisha Thompson's solo piece deals with her loving but complex relationship with her father. When their communication through books, letters and symbols comes to an abrupt end, the daughter needs to find the courage to dive into her reclusive father's world, a place buried deep in a profound sense of rootlessness and entangled in psychiatric issues.
In this affecting work, Keisha Thompson examines the ingredients of her identity, a twist in the family dynamic and the Black British female experience.
Wed 7.8. 19.00 & Thu 8.8. 14.00


Sofia Södergård (Sweden) : SLICK

In SLICK, Swedish choreographer, dancer, actress and DJ Sofia Södergård presents us with Qarl Qunt, a drag king, both on and off the stage during his fourth world tour.
A refreshing and unabashed combo platter of cabaret, dance and physical theatre, the tenderly ironic SLICK digs deep into a performer's loneliness and the practices of power while issuing an open challenge to stereotypical conceptions of masculinity, femininity and entertainment.
Wed 7.8. 19.00 & Thu 8.8. 14.00



Nassim Soleimanpur (Iran) & Bush Theatre (UK): NASSIM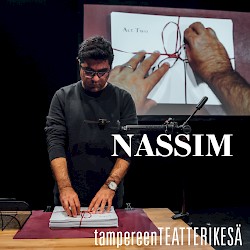 No rehearsals. No preparations. Just an envelope on stage, containing a script which the guest performer is about to see for the first time. Plus a few tomatoes and the author himself, ready to guide the performer through their first meeting.
An Iranian residing in Berlin, Nassim Soleimanpour is a playwright whose works have been translated into more than 25 languages and performed all over the world but never in Farsi, his native tongue. In this exhilarating piece he examines how language and communication both unite and separate us in these times of uncertainty. Nassim is an electrifying, generous, playful and charmingly funny one-of-a-kind experience.
Thu 8.8. 18.30 & Fri 9.8. 16.30



Red Nose Company (Finland): BABYLON
There are just a few tickets left for the performance Babylon, which subtitled in English. The delightful combo of laughs and lethal observation, the autobiographical Babylon aims a female gaze at the practices of power and sexual control.
Historical figures from Catherine the Great to President Trump take the stage in a hilarious fashion, as actresses Minna Puolanto and Hanna Seppä along with director Marielle Eklund-Vasama raise the apt questions of why do we need hierarchies, why can't we live in a truly equal society, and what kind of power is good and uncorrupting.
Thu 8.8. 19.00 & Fri 9.8. 14.00

 

Theater Basel (Switzerland): MEDEA
Two brothers are playing in their room, trying to ignore their parents' argument. Looking in on her sons, their mother tries to soothe them, but the boys' childhood days are clearly over. They become absorbed into the grim tale of Medea as told by Euripides.
Focusing on the side characters of a tragedy and looking through the eyes of innocent children, the play turns a mythical monster into an ordinary, caring mother who commits an unspeakable act. In their Medea, one of the darkest Greek tragedies transforms into a sharp and compelling depiction of crossing the line between everyday life and irreversible tragedy.

Fri 9.8. 19.00 & Sat 10.8. 14.00


Klockriketeatern, Sirius Teatern, Teater Mestola (Finland): MARAT/SADE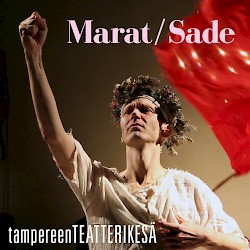 A group of inmates of Charenton Asylum are staging a play while the work's overseer, the Marquis de Sade, a patient himself, is engaging in conversations with the subject at hand, the late Jean-Paul Marat, the assassinated hero of the French Revolution.
In this rendition of Peter Weiss's revered German play, three Swedish-speaking Finnish theatres join forces with theatre powerhouse and Finlandia Prize winning author, director Juha Hurme. Together they twist and turn the original to produce new shapes out of a sharp, funny and shocking work that ingeniously maneuvers itself between individualism and politics while pondering the alternatives of total control and complete anarchy.

Currently just a few tickets left for Saturday, 10.8. 19.00 (Sunday is sold-out) 


Dance Theatre MD (Finland): Sisters & The Field

An evening of two top choreographers at DanceTheatre MD
Alpo Aaltokoski's Sisters is a gripping depiction of lifelong sibling affection. Composer Arvo Pärt's piano concerto Für Alina creates an emotional framework for the exquisite teamwork of dancers Elina Jakowleva and Mari Rosendahl.
Susanna Leinonen'sThe Field is a contemporary woman's look at the 1918 Finnish Civil War and its effects. Leinonen focuses on the recollections of the war that have been passed down through generations – and on the silence surrounding this devastating event.

Sat 10.8. 17.00 & Sun 11.8. 15.30

Briefs Factory (Australia): HOT BROWN HONEY

This divine and unapologetic posse takes you inside a tornado of hip-hop and politics the like of which you've never seen before.
Hot Brown Honey crushes prejudice and stereotypes, throws them in a blender and comes up with a mind-expanding cocktail to blow colonialism off the stage – one stage at a time. An empowering extravaganza of gale-force proportions, this show will strike a chord with anyone interested in things beyond their own navel lint. It already has, with sold-out audiences around the world, from the Sydney Opera House on and beyond. Now, this acclaimed matriarchal spectacle is about to run wild at Tampere Hall, as the World Pollination Tour sets Finland free!
Sat 10.8. 18.00 & Sun 11.8. 15.30
 

IIPM (Switzerland / Germany) & Création Studio Théâtre National Wallonie-Bruxelles (Belgium): LA REPRISE. Histoire(s) du théâtre (I)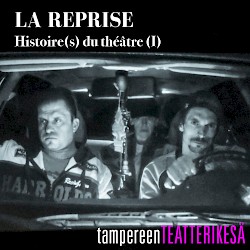 Milo Rau, one of Europe's premier theatre directors, brings us La Reprise. Histoire(s) du théâtre (I), a work that challenges the distinction between performance and reality.
Using multiple points of view, Rau performs a meticulous autopsy not only on a heinous murder that took place in Belgium in 2012, but also on the current state of Europe. A shocking declaration of democratic reality theatre, La Reprise presents us with a startling emotional spectrum that mirrors cruelty and terror, loss and grief, fear and love.
Sat 10.8. 20.00 & Sun 11.8. 13.00