Ida Elina: folk music meets Michael Jackson
27.7.2018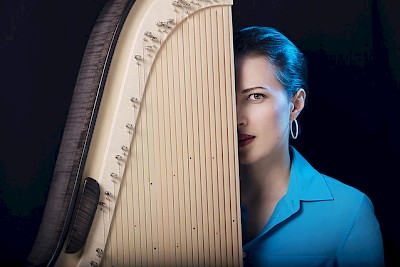 Michael Jackson's Billie Jean has been covered time and time again, but few can match the uniqueness of Ida Elina's version. She plays it on a 39-string kantele, a traditional Finnish and Karelian instrument that is not often heard in pop music – if ever.
In the Finnish national epic Kalevala, the first kantele is made from the jawbone of a pike by the mage Väinämöinen. When played, it produces music so beautiful and enthralling that everyone rushes to listen.
The events of Kalevala may not have actually happened, but listening to Ida Elina's music, one certainly feels the magic. What makes kantele such a great addition to pop music?
– Kantele is something new, different and fresh. At best, it may even give you a totally new kind of listening experience. For me, it was definitely the freshness and versatility of the instrument that got me hooked.
These elements likely factor into Ida Elina's international success as well. Ida Elina has toured all over the world including the United States and China, and her pop hit cover videos have tens of thousands of views on Youtube. The combination of world-famous hits and an unfamiliar instrument appeals to the crowds.
Drawing inspiration from country music
We've already heard Ida Elina's beautiful versions of, for instance, Adele's Skyfall, Toto's Africa and Nina Simone's Feeling Good. She has also released original music flavoured with sounds drawn from pop, soul, jazz and gospel. What's the next step?
– I'd love to learn to play kantele in 4/4 time, which is common in country music. The 4/4 time signature is actually really simple yet compelling, but it's very challenging to play believably with a kantele. I'm a long time fan of Avicii who passed this year, and his song Wake Me Up is played in 4/4 time, too.
Ida Elina says that she has already tried to achieve similar rhythms on her new album, which is set to be released later this year.
Treats and surprises in the Programme Tent
Though we have to wait for the new album for a while longer, Ida Elina has some surprises in store for us with the Programme Tent in mind:
– I'm already really looking forward to the concert, and since I'm working on my new album right now, I'll definitely give the audience a few treats! I'll also play cover songs, but the rest is a surprise.
Ida Elina in the Programme Tent on 9th August at 22.00.
Photo by Annika Miettinen
Interview and text by Miia Toivari