Tuuletar – not your average folk band
11.7.2018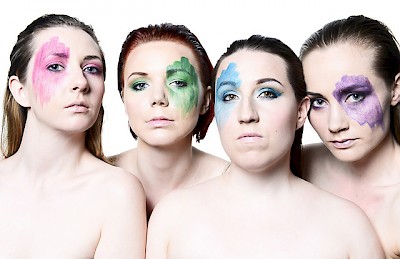 Folk, a cappella, hip hop, bollywood – do they mix? Yes they do, as proven by the Finnish group Tuuletar (Goddess of the Wind in Finnish mythology). The multitalented quartet creates their own soundscape with nothing but their own voices, and the result is magical.
The group sings in Finnish, but they have garnered praise far and wide. Tuuletar's song Alku from their awarded debut album Tules Maas Vedes Taivaal (2016) can also be heard on a Game of Thrones trailer and on the Australian hit drama Wentworth.
In quest of rhythm
Tuuletar is clearly no ordinary folk music group – their fearless and open-minded way of mixing different styles and vocals to create something completely new has wowed people all over the world. For instance, they incorporate beatboxing into their music. The method is traditionally associated with hip hop but it lends itself to other genres as well.
Tuuletar originally came across beatboxing when they were searching for a vocal technique that would add rhythm to a cappella music. They found the British band Boxettes and were deeply impressed especially by Bellatrix, their beatboxer:
– We were dumbfounded by their strong, nuanced and dynamic dissonance on the big stage. It inspired us to delve deeper into beatboxing and experimental vocals.
'We don't want to label our style'
Since beatboxing is such a prominent element in their music, Tuuletar may be desribed as a 'vocal folk hop' group. However, they don't want to limit themselves or their music to any one style.
– We don't want to label our style and we don't purposefully make a certain type of music. Instead we welcome influences from wherever and let our music bloom exactly the way it wants to at any given moment.
So which three adjectives would best describe Tuuletar's music?
– Limitless, timeless and dynamic!
Currently the group is working on their next album, which is set to come out in 2019. We are in for a treat full of surprises!
See Tuuletar in the Programme Tent on Tuesday 7th August at 22.00
Cannot wait for the performance? No worries. Check them out on Youtube!
Photo by Tuuletar
Interview and text by Miia Toivari
Other sources: