The Olavi Veistäjä award was given to Meri-Lapin Teatteriyhdistys and to Finnish translator Mikko Koivusalo
9.8.2023
The Finnish Cultural Foundation awarded Meri-Lapin Teatteriyhdistys (The Theatre Association of Sea Lapland) and Finnish translator Mikko Koivusalo for remarkable acts on behalf of theatre culture. The awards were given at the Tampere Theatre Festival opening ceremony on August 8. Tampere Theatre Festival congratulates!
Meri-Lapin Teatteriyhdistys – a persistent group defending art
The work of Meri-Lapin Teatteriyhdistys guarantees a nationally equal supply of art for the people living in the area. Thanks to that, different age groups can experience versatile performance art created by professionals. The work done for own theatre is a victory for everyone who participated. Uusi Kemin Teatteri (New Theatre of Kemi) and its staff have proved their ambition, survivability and community spirit.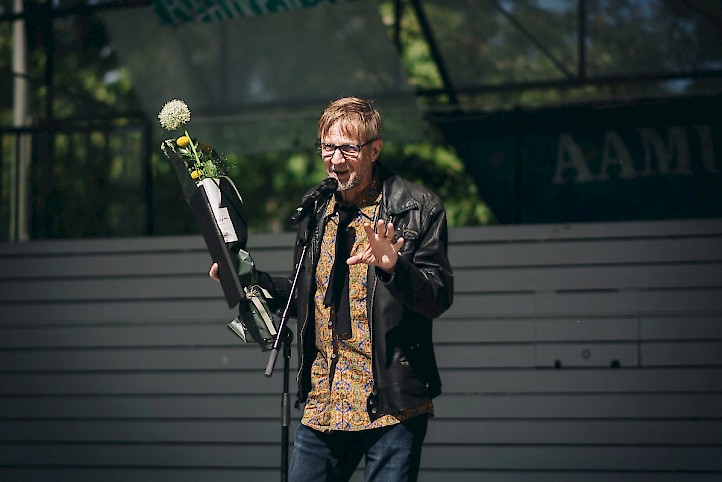 Finnish translator Mikko Koivusalo – master of dialogues and songs
Mikko Koivusalo has earned credit in translating plays, especially musicals, in Finnish. Most of the musicals translated in Finnish in the 2000s are made by him. Koivusalo's repertoire ranges from Stephen Sondheim to Andrew Lloyd Webber and from The Full Monty to My Fair Lady.
It is easy to understand, why Mikko Koivusalo is so popular as Finnish musical translator. He is inventive and verbally talented. His translations are well-made, and they hold on to the spirit of the original work. The texts translated by Koivusalo are easy to perform.