"I believe in creative contamination": Julian Hetzel's humorously thought-provoking All Inclusive combines multiple art forms to comment on the economics of the art market
14.6.2022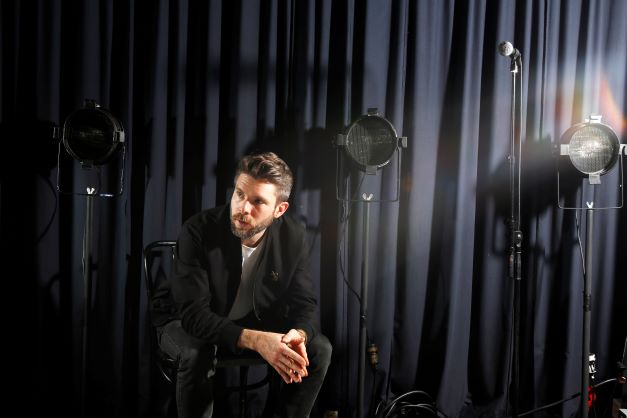 What unites art and war, tourists and refugees, reality and imagination?
Julian Hetzel's All Inclusive.
This satirical piece, directed by the Utrecht-based performance maker, musician, and visual artist Julian Hetzel, wryly comments on the aestheticization of violence and war images. But what exactly happens in the performance?
"In All Inclusive, the audience is invited to watch a guided tour through a contemporary visual arts gallery on stage. Here, the curator explains a series of artworks to a group of visitors inside a white cube gallery. Yes, people are watching people watching art. That sounds boring, yet it is a gripping and confronting experience that stirs up a lot of dust. The audience experiences the power of art and the complexity of the art market at the same time. There is no outside. All Inclusive is a piece about creation and destruction, about art and war – and about economy and empathy. Welcome to ESCAPE!" explains Hetzel.
All Inclusive thus asks crucial questions about the ways in which the art market profits from empathy and the imagery of war. The art objects of the exhibition on stage are made of several kilos of debris from a Syrian conflict zone.
At the same time, however, the performance has a humorous side. The director himself thinks that the piece "absolutely" suits those theatergoers who look for entertainment and not for heavy philosophical and ethical thinking.
Hetzel describes humour in All Inclusive as "a coping strategy."
"It is a highly accessible work that combines contemporary dance with beat boxing, visual arts with pop music, videos with souvenir shops and theatre with reality. All Inclusive is a piece for everybody and especially for cultural omnivores: it's visual, musical, conceptual and brutally banal. Some scenes are hilarious and dead funny, others are tragic and wild. The piece is an emotional roller coaster. It goes up and down and up and…"
Overall, All Inclusive seems like a piece that could teach its audience as well as its makers a thing or two. What has working on it taught its director?
"I learned a lot about myself and about my perspective on others. There is a box for everyone and I learned to question and to dismantle this construction," says Hetzel.
As an art maker Hetzel possesses a diverse range of interests that incorporate documentary techniques and political commentary. It could be said that All Inclusive embodies this diversity of Hetzel.
"The creation process of All Inclusive allowed me to combine all my interests (theatre, music, visual arts, sculpture, video, dance, design) into one single work. There have been times when people told me one has to choose, one has to decide and become an expert in one particular discipline in order to be successful. I am happy not having listened to these voices – and to cultivate an 'undisciplinary' practice. I believe in creative contamination."
In addition to All Inclusive, Hetzel has created an installation-performance called Mount Average (2020) that makes us face our own ideologies. He is also one of the founders of the electro-pop band Pentatones and the creator of a multi-room parkour space Schuldfabrik, which juxtaposes the collective obligation to remember with the individual right to forget.
His works have been presented at the Venice Theatre Biennale, among others, and they have been produced and presented internationally on multiple occasions.
All Inclusive will be performed at Pakkahuone on Tuesday 2.8. at 19.00 and on Wednesday 3.8. at 16.00. Buy tickets here.
This article is primarily based on an interview with Julian Hetzel. The article also makes use of the materials sent by CAMPO arts centre, including Hetzel's biography and an interview of Hetzel by Manuel Haezebrouck.
Text by Idil Tekin