A theatre performance that got tired of theatre
22.7.2022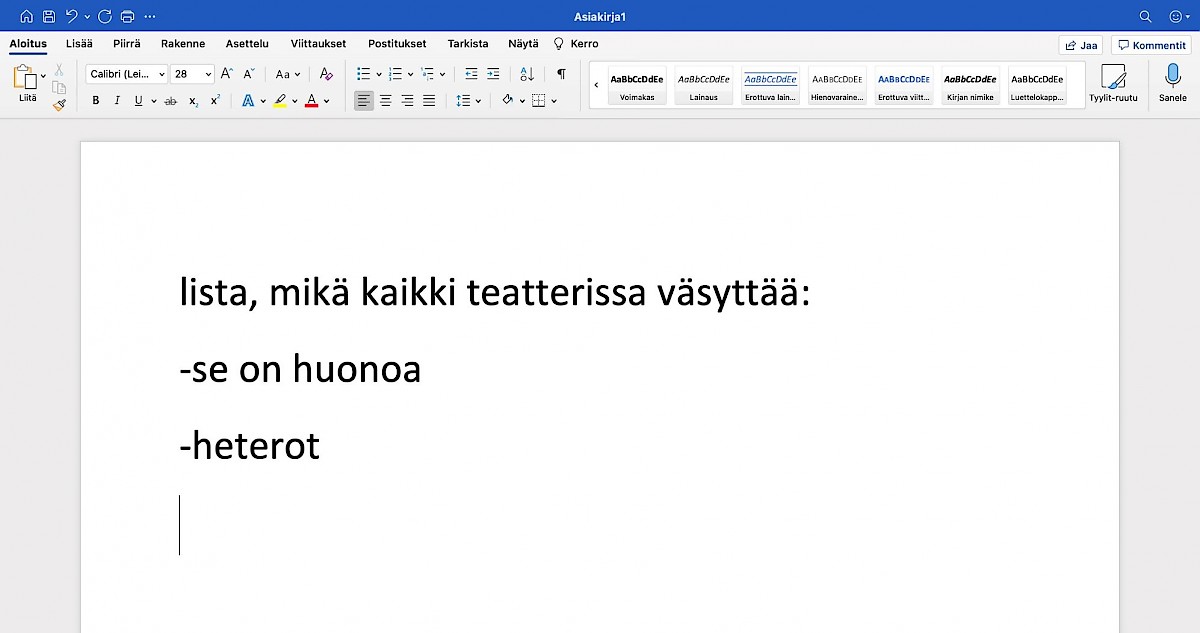 Picture: Arni Rajamäki
This anarchic contemporary theatre performance Beginning Middle End (orig. Alku keskikohta loppu) discusses gender and sexuality norms in theatre and relationships from the perspective of a minority. It unloads emotional baggage filled with rage and frustration that originates from living in a heteronormative world. At the same time, the performance challenges the tradition and rules of theatre. This piece was originally created as an artistic part of a master's thesis, and it will be a surprise both to the audience and the actor, who will see the script for the first time on the stage.
The dramaturge's complex relationship with theatre
The writer and director of the performance Arni Rajamäki graduated from the University of the Arts Helsinki's degree programme in Dramaturgy and Playwriting in 2021. Rajamäki had no prior theatre experience before their studies, but they were interested in writing. While studying Rajamäki familiarized themselves also with directing. In recent years, the fresh Master of Arts has worked as a performance dramaturge.
Rajamäki describes her relationship with theatre as complex, and this complexity has influenced the direction that Beginning Middle End has taken. The process of creating this artistic project has raised some questions in the writer:
– Does a theatre practicioner have to love theatre? Does a theatre performance have to love theatre? What would a theatre performance that is tired of theatre look like?
Discarding performance anxiety led to fascinating incompleteness
The social context of the performance is our culture's cis- and heteronormativity and the way of life and world view that emerge from this norm. In recent years, there have been discussions about these values, and the discussions have raised some difficult feelings, which inspired this work.
Rajamäki had some performance anxiety regarding to her final artistic project, which is why it felt difficult to start writing. The piece begun to get its form when Rajamäki decided to lower the threshold for writing and questioned everything that they had learned at university about rules of making theatre, such as what the play's structure is supposed to be like and how you are supposed to rehearse the play.
– Finally, I tried to lower the threshold by thinking what if instead of 'a perfect execution' I would underachieve this huge final project and what would it lead to artistically. I'm fascinated by doing things tongue-in-cheek and aesthetizing "badness", and often incompleteness is more interesting than something that is polished to perfection.
Even though the performance is not a completely polished theatre spectacle, the style has required a lot of work. During the writing process, Rajamäki was fascinated by the freedom from aspirations such as trying to succeed or sound smart. They have let infantile and careless thoughts bounce around wildly. The method of working is also seen in the performance when the actor performs the text without practice.
A unique viewing experience
Each Beginning Middle End show is a unique experience, because the actor makes the situation their own. The text that was born from hard and angry feelings takes new directions and its original charge can change.
– I have heard that when one watches the performance they are quite conscious about their reactions, and when they laugh they think about whether they are "allowed to laugh".
The future of theatre
In the future, Rajamäki would like to make and see theatre that takes care of its makers financially and ensures that the work environment is safe.
– This leads to theatre that is carefulluy thought out and that looks like its makers. That kind of theatre I want to make and see in the future.
In the field of culture, we cannot yet take a good work environment for granted, and the structures need to be shaken up. We can follow the lead of Beginning Middle End in challenging traditions.
Beginning Middle End will be performed at Kellariteatteri on Monday 1.8. at 19.00 and on Tuesday 2.8. at 15.00. Buy tickets here.
This article is written based on an interview with Arni Rajamäki.
Text and translation by Reetta Toivettula