Urban AI Art
Come see the real-time Urban AI Art, an AI artwork that generates an endless stream of images of imaginative cities. Urban AI Art lives its own life without history, meaning viewers can only see the same image once. The images are destroyed as soon as they appear and replaced by new versions until the machine is switched off. Who is an artist and what is art today and in the future?
Visual artist Jussi Lahtinen wanted to see what happens when he hands over his artwork to the Urban AI Art machine. Lahtinen's Urban AI Art tests the possibilities of new technology and is a standalone artwork whose image stream will appear on the big screen of the Keskustor Summer Terrace on the Nocturnal Happening. By scanning a QR code or going to urbanai.fi, each viewer will receive a unique stream on their mobile device. The artwork has no sound and can be viewed anytime, anywhere. The Urban AI Art machine, which harnesses the power of artificial intelligence, has been developed just for this artwork.
Urban AI Art is part of the University of Tampere's research project Artificial Intelligence in Art and Society (UrbanAI). The project and the artwork are funded by the Kone Foundation. The Nocturnal Happenings performance will be carried out in collaboration with Operation Pirkanmaa.
Jussi Lahtinen is a visual artist from Tampere who has created the brand Metropolis by Jussi Lahtinen.
The Metropolis series was inspired by Fritz Lang's Metropolis (1927) and started in 2015.
The series currently includes 10 different cityscapes from Finland.
The original Metropolis artworks are handmade art graphics.
You can also access the artwork from
here
.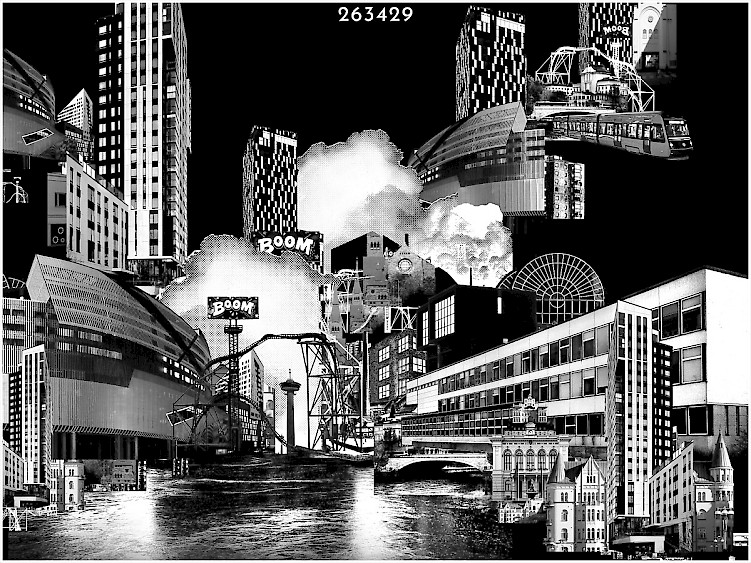 | Keskustori Summer Terrace Restaurants
Keskustori 2
Free entry
Thu 10.8. 18.00

Thu 10.8. 19.00

Thu 10.8. 20.00

Thu 10.8. 21.00
The work is on display from 18–22