The Art Carriage Linnuntie
The Art Carriage Linnuntie
The Art Carriage Linnuntie entertains on the square's stage at 20:00. The art carriages of Tapani Kokko and Virpi Kanto combine old-time circus with performance and visual arts in a hilarious way. A visual and good-natured wow experience!
---
FINLAYSON GOES NOCTURNAL
The Finlayson area has a lot of spectacular and unique programs on the Nocturnal Happening in several different destinations, e.g. in the Väinö Linna square, museums, exhibition spaces, indoors and outdoors. 
Programme at Väinö Linna Square:
18:00 Tampereen Ihankaikkinen Kuninkaallinen Tuomiokuoro
18:30 Rock n' Twerk by Martta Rautio
19:00 Maisteri Simo Frangénin Sensaatiomainen niksishow
19:30 Rock n' Twerk by Martta Rautio
20:00 Taidevankkuri Linnuntie
20:40 Kansansäveliä - Tampere Chamber
---
See Finsku's entire program of the Great Nocturnal Happening.
Changes are possible.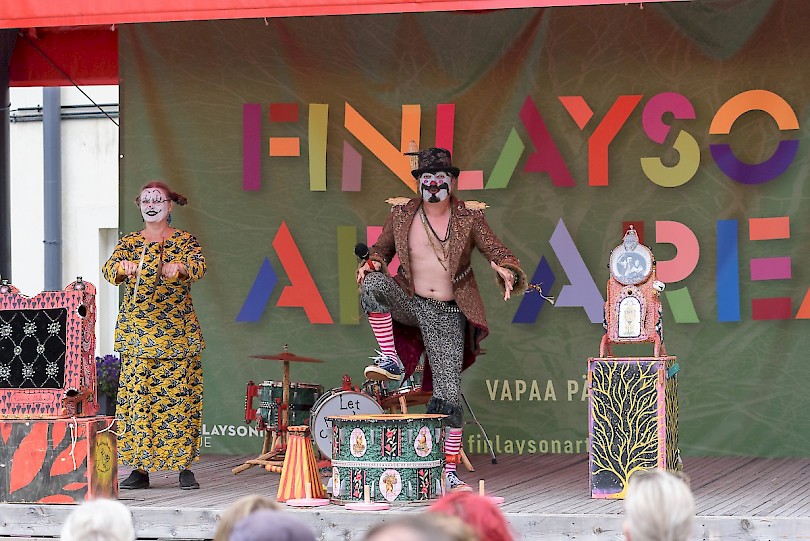 | Finlayson Area
Väinö Linnan aukio
Free entry
Finlayson goes Nocturnal program from 18.00-21.00