Songs and poetry about humanity
Songs and poetry about humanity
Hanna Hysch! – Sanna Är – XELI
Songs and poems about humanity is a performance by three songwriters who come close to people, bringing the lights and shadows of life under scrutiny. Hanna Hysch! brings out the joys and sorrows that touch us all in her poems and songs, while Sanna Är reflects on life and humanity through poetry and XELI's accompaniment. XELI will also perform some of her own touching songs at the end of the evening. The trio wants to leave the listener feeling inspired and loved.
Hanna Hysch! is a poetic songwriter from Viiala, Akaa. She has performed in various cover bands all over Pirkanmaa and now also composes and writes the lyrics to her own Finnish music. Her collection Kehuttu-poetry was published in May, and a new collection Hämmennetty will be out soon. The performance includes excerpts from these and touching Finnish songs accompanied by Hanna herself on the piano.

Sanna Är is a lyricist and a poet who moved from the north to southern Finland. Winner of one Poetry Slam competition, the sharp-toungued Spoken Word artist keeps the listener in her grip and makes people think for themselves. Paralysed in her youth and almost speechless at the time, Sanna's words have a strong sense of emotion that the most sensitive people can sense. Sanna will be accompanied by singer-songwriter XELI.

XELI is an indie artist-songwriter and emotional storyteller whose music is filled with sensitivity, wistfulness and recycled tears. The pop artist from Tampere also makes music for other artists and plays and sings backgrounds. XELI has released four singles on streaming services so far, the latest of which, Kroatia, was released in autumn 2021. New music from the artist is coming later this year.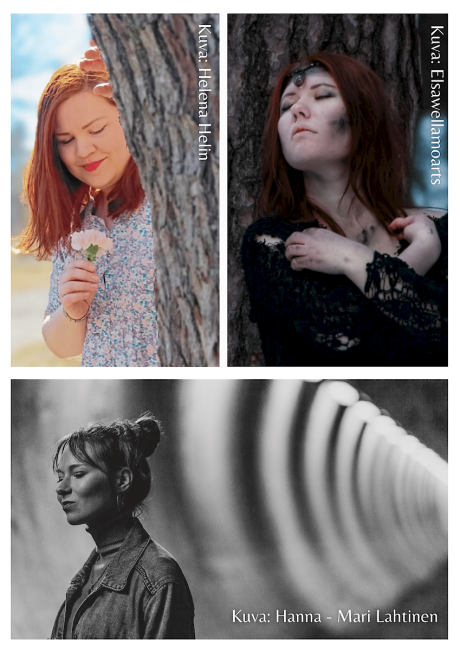 | Kahvila Runo
Ojakatu 3
Free entry
Duration 1h
Second concert at 20 at Olympia-kortteli Puumaja-terrace
Actors and team
Hanna Hysch! Runot, piano, vocals
Hanna Siponen
Sanna Är
Sanna Ruokonen