Arteljee goes Urban – come and paint!
Arteljee goes Urban – come and paint!
Is street art your thing? Or is it something you're not familiar with? Whatever your answer, you are warmly welcomed to paint with us in the spirit of street art when our shop becomes an experimental street art space. You're guaranteed to get into the flow: from the gentle urban sounds of our playlist, you can find inspiration for your expression through music painting. What does music look like painted on the wall?
What?
acrylic painting on the wall in the spirit of street art
music & music painting
watercolour pencil art on recycled materials
demos by watercolourist Mika Törönen
food and drink
Where?
Indoor and outdoor space of Arteljee art supply store, Hallituskatu 11 33200 Tampere
When?
On Nocturnal Happening, Thursday 10.8.2023 at 17-22.Or as long as there are enough enthusiasts.
For whom?
The event is free of charge and open to everyone, we provide the equipment.
Accessibility. A portable ramp is available.
The interior and (if weather allows) exterior of our shop will be taken over by movable walls, on which we will create a collaborative piece of street art. If you want to take your creations home, we also offer small painting trays for those who want them. We use Liquitex acrylic paints and Posca paint pens, so there's no need to worry about spray paint breakage. We provide all the necessary equipment, and of course snacks and hot drinks. All you need is an open mind.
In addition to acrylic painting, you can delve into art with Derwent Inktense watercolours and water-soluble pens. The street art theme doesn't mean that expression can't be sensitive. Do you find inspiration in contrasts, in challenging stereotypes? On-site demonstrations by watercolourist Mika Törönen, a master of street art. In the spirit of sustainability, you can use scraps of passepartout cardboard from our framing studio as a base.
The event is suitable for both experts and beginners, no previous experience necessary. Families with children are warmly welcome, but please note that the acrylic paint does not come off in the wash. This is also a tip for adults. We have a few aprons to borrow if you started out with the ones above.
Accessibility. We have a portable ramp for wheelchairs and why not strollers. Please ask the staff to install a ramp. If weather allows, the event space also extends outside to the front of the shop.
See you on the Nocturnal Happening!
More information about the organiser: Arteljee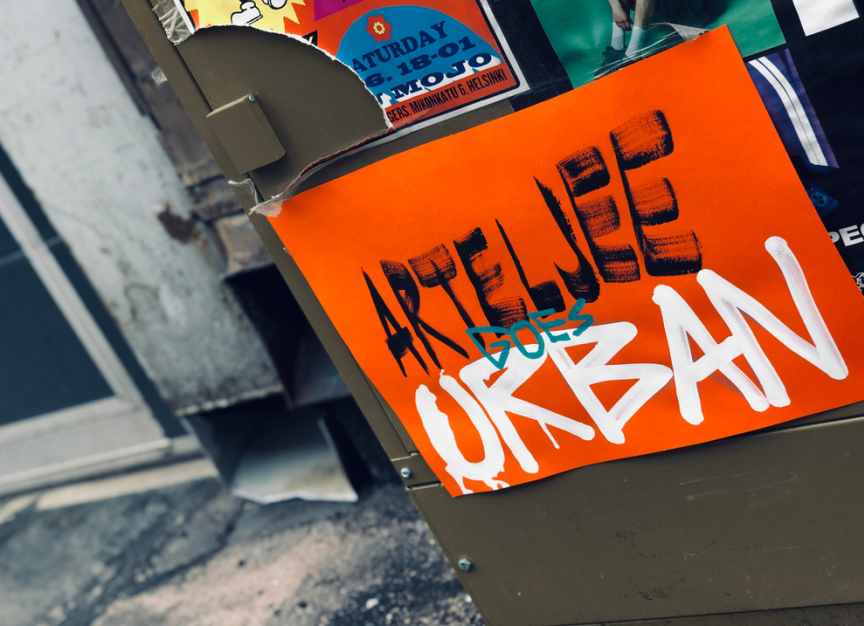 | Arteljee shop
Hallituskatu 11
Free entry
Thu 10.8. 10.00

Thu 10.8. 11.00

Thu 10.8. 12.00

Thu 10.8. 13.00

Thu 10.8. 14.00

Thu 10.8. 15.00

Thu 10.8. 16.00

Thu 10.8. 17.00

Thu 10.8. 18.00

Thu 10.8. 19.00

Thu 10.8. 20.00

Thu 10.8. 21.00
Shop open from 10–18, Street painting from 17–22