Introducing Playwright Penda Diouf
Introducing Playwright Penda Diouf
Theatre Info Finland TINFO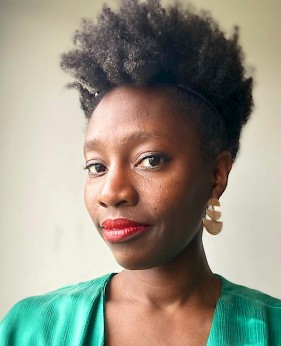 Discussion Event in English
Theatre Info Finland TINFO
French actor and playwright Penda Diouf (b.1981) has her roots in Senegal and Ivory Coast. In 2010, she was able to travel to Namibia, the home country of Frankie Fredericks, a sprinter she has admired since childhood. Frankie Fredericks was the first, and for a long time the only, Namibian Olympic medalist. After returning home from her trip, Diouf wrote the play Pistes (2021), a poetic account of the courage to come face to face with one's own demons. In the play Diouf's experience of discrimination in France is linked to a history of violence in Namibia during the German colonial era.
This year, Diouf's Pistes (Tracks, English translation by Amelia Parenteau) was added to the World on Stage project's selection of renowned plays from outside of the core Anglosphere that have not previously been produced in Finland.
Pistes is a moving tribute to the victims of colonial genocide and to its heroes. At the same time, it is a story of generations who have had to accept the fact that justice will never be shared, and that justice will never be done.
Diouf is interviewed by Hilkka-Liisa Iivanainen, director of Tampere Theatre and member of the Tampere Theatre Festival Artistic Team.
Event is free-of-charge and open to everyone.
Language of the event: English
---
Venue address: Keskustori 2
Venue is accessible.
Tampere Theatre, upper hall
Duration 1h 15min